added to your basket
Sorry, there seems to have been an error. Please try again.
Subtotal: ( items in your basket)
Complete your order to earn points
Sorry, unfortunately this product is currently out of stock
Other customers purchased instead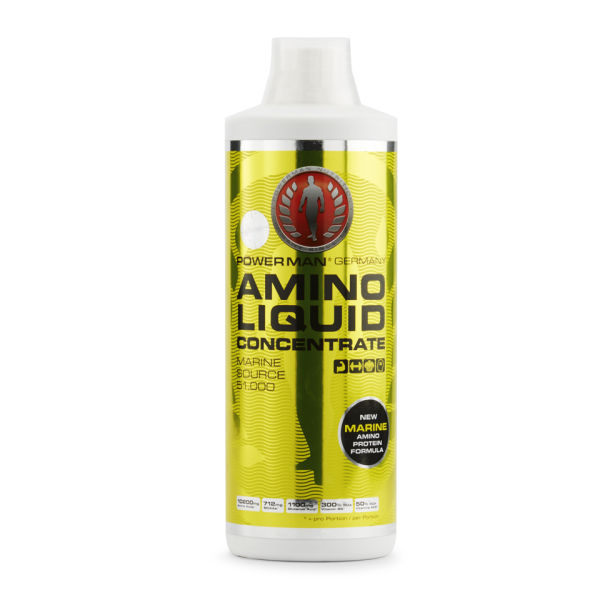 Contains fish. May contain traces of lactose, soy, gluten and egg.
PowerMan Amino Liquid Concentrate
Earn 20 reward points when purchasing this product*
This proprietary blend of BCAAs incorporates both essential and non essential amino acids, making it one of the best and strongest liquid amino acid products available today.
Added vitamin B6 is an additional component contributing to normal protein and glycogen metabolism – essential bodily processes.
With over 10.2g of bioengineered amino acids per serving, there is no doubt that this exceptional product will help you to reach your training goals.
When we created the Powerman Amino Liquid Concentrate, we ensured it was produced from pure marine protein sources only, one of the best sources for amino liquid in the world. Free from pork and bovine gelatine, placing it above most other products on the market.
Zero sugar and carbs also ensures gains in lean muscle mass and a low calorie intake, Powerman Amino Liquid Concentrate is highly recommended by advanced athletes.
Key Benefits
Over 10g of amino acids per serving
Added vitamin B6 contributes to normal protein and glycogen metabolism
Zero sugar
Added vitamin A, C & E
Mix 20ml with 250ml water, consume after physical exercise. On rest days prior to sleep.
Water, Protein Hydrolysate (marine source), Acidifier: Citric Acid, Flavour, Sweetener (Sodium Cyclamate, Acesulfame K and Saccharine Sodium), Ascorbic Acid, Preservative: Sodium Benzoat, Retinyl Palmitate, Preservative: Sodium Sorbat, Alpha Tocopheryl Acetate, Pyridoxine Hydrochloride. With Preservative.
Per 100ml:
Energy (kJ/kcal): 878 kJ (211 kcal)
Fat: < 0.1 g
of which saturates: < 0.1 g
Carbohydrates: < 0.1 g
of which sugars: < 0.1 g
Protein: 51 g
Salt: 0.3 g
Vitamin A: 2g
Vitamin B6: 0.021 g
Vitamin C: 0.2 g
Vitamin E : 0.03g
Customer Reviews
Overall Rating : 5.0 / 5 (2 Customer Reviews)
Top Customer Reviews
Where reviews refer to foods or cosmetic products, results may vary from person to person. Customer reviews are independent and do not represent the views of The Hut Group.
I have not seen this product before! I have it sitting on my desk at work so i don't forget to take it. With it being zero sugar and carb free it's an ideal shot to take to support me staying lean. The marine source protein is very different and unique from other brands. A really great product, one of the best.
I have tried this product while I was in Germany and was absolutely amazed by the flavour and the recovery improvement! Best value liquid aminos!
Zoom