added to your basket
Sorry, there seems to have been an error. Please try again.
Subtotal: ( items in your basket)
Opt in to loyalty to earn points
Sorry, unfortunately this product is currently out of stock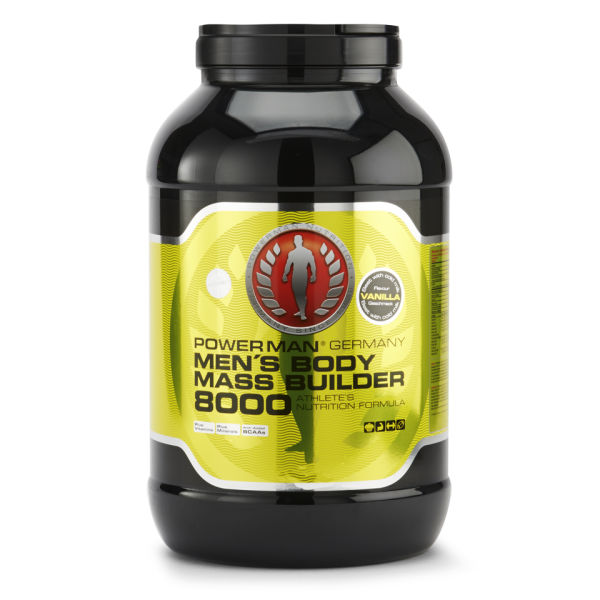 Contains milk components (lactose), soy, soy lecithin and egg. May contain traces of gluten.
PowerMan Men's Body Mass Builder 8000
Opt in to loyalty to earn 20 reward points when purchasing this product*
If you are aspiring to gain muscle mass, Men's Body Mass Builder 8000 is the superlative product for you. This supreme Powerman weight gainer is engineered specifically for men to aid weight gain and muscle growth.
Why is Men's Body Mass Builder 8000 the Best Weight Gainer For You?
Equipped with a massive 34g of protein per serving, Men's Body Mass Builder 8000 incorporates a supreme blend of proteins including whey isolate, casein isolate and egg protein. Isolate proteins are the highest quality protein available. A mixture of whey and casein isolate works synergistically to provide both a fast, muscle aiding protein release, as well as a slow persistent release, contributing to the growth of muscle mass.
Men's Body Mass Builder presents a comprehensive amino acid profile with added BCAAs, and glutamine, making it an exclusive product that is regularly consumed by dedicated athletes.
Additionally, each serving of this premium weight gainer provides an extensive spectrum of vitamins and minerals and up to 74g of high GI carbohydrates.
By combining optimum levels of vitamins including all of the vitamin B complexes, vitamin E and vitamin C with various minerals, iron, zinc and manganese, Men's Body Mass Builder can help support the immune system whilst contributing to energy metabolism, and thus the reduction of tiredness and fatigue.
Key Benefits
530 calories per serving
34g of protein per serving
Helps increase weight and body mass
Also contains L-Glutamine and L-Leucine
4 tablespoons (approx. 75g) mixed with 500ml milk (1.5% fat). 1-3 shakes throughout the day, depending on physical intensity.
Maltodextrin (19%), Dextrose (16%), Fructose (15%), Maize Starch (15%), Whey-Isolate (14%), Casein-Isolate (5.0%), Soy-Isolate (5.0%), Yoghurt Powder, Thickener: Guar Gum, Flavour, Egg Protein Concentrate, Fruit Powder Strawberry (Maltodextrin, Fruit Powder Strawberry, Acidity Regulator: Citric Acid) (1.0%), L-Glutamine (1.0%), L-Leucine (0.5%), Fruit Powder Elder (Maltodextrin, Elder Concentrate, Sucrose, Invert Sugar Syrup, Acidifier: Citric Acid), Acidifier: Citric Acid, L-Valine (0.25%), L-Isoleucine (0.25%), Emulsifying agent: Soy Lecithin, MCT-Oil (medium chain triglycerides, contains 60% Caprylic Acid and 40% Capric Acid), Colouring: Beetroot, 113 mg Ferric Phosphate, 76 mg Zinc Sulphate, 36 mg Potassium Iodide, 32 mg Magnesium Carbonate, 12 mg Manganese Sulphate, 3.6 mg Copper Carbonate, 0.41 mg Chromium-(III)-chloride, 0.2 mg Sodium Selenite, Ascorbic Acid, Nicotinamid, DL-alpha-Tocopheryl Acetate, Calcium-D-Pantothenate, Pyridoxine Hydrochloride, Riboflavin, Thiamine Mononitrate, Pteroyl-L-Glutamic Acid, D-Biotin, Cyanocobalamin.
Per 100g:
Energy (kJ/kcal): 1592 kJ (380 kcal)
Fat: 0.5 g
of which saturates: 0.3 g
Carbohydrates: 67 g
of which sugars: 32 g
Protein: 24 g
Salt: 0.13 g
*Please note this nutritional information is taken from the Vanilla flavour. Other flavours may vary slightly
Customer Reviews
Overall Rating : 4.5 / 5 (4 Customer Reviews)
Top Customer Reviews
Where reviews refer to foods or cosmetic products, results may vary from person to person. Customer reviews are independent and do not represent the views of The Hut Group.
Zoom