added to your basket
Sorry, there seems to have been an error. Please try again.
Subtotal: ( items in your basket)
Complete your order to earn points
Sorry, unfortunately this product is currently out of stock
Other customers purchased instead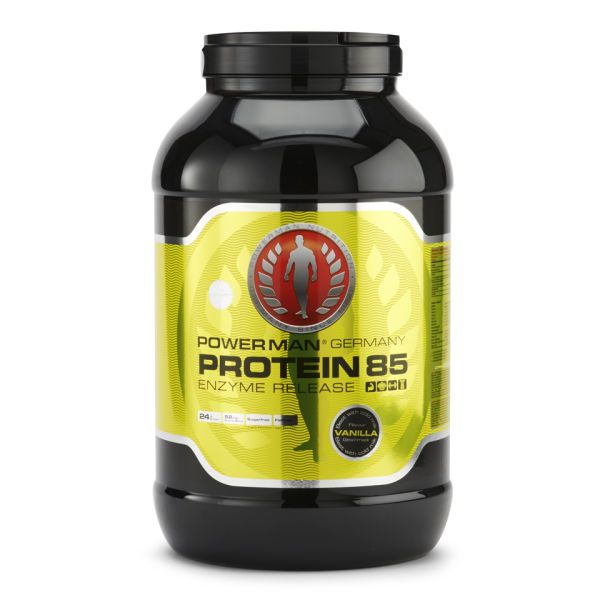 Contains milk components (lactose), soy lecithin and egg. May contain traces of soy and gluten.
PowerMan Protein 85 Enzyme Release
Earn 20 reward points when purchasing this product*
Powerman Protein 85 is our most innovative protein formula developed to date. Through the careful integration of casein, whey and egg protein, Protein 85 provides a slow releasing combination to your muscles.
The bestselling Protein 85 presents a fundamental Vitamineral spectrum, which incorporates 8 of the vital energy-yielding vitamin B complexes, as well as added minerals including manganese, copper and iron.
Through the combination of various slow digesting proteins, Protein 85 contributes to the growth and maintenance of lean muscle mass, whereby a biological enhancement of the Vitamineral spectrum also contributes to normal cardiac function, the reduction of tiredness and fatigue and the synthesis and metabolism of protein and glycogen, hormones, vitamin D and some neurotransmitters.
Powerman Protein 85 possesses a steady protein release, which, when used synergistically with an optimum diet and exercise programme, can help you achieve your physique ambitions. Protein 85 is ideal for anyone looking to increase their daily protein consumption.
Key Benefits
Over 24g of protein per serving
Contains 78% casein
Contributes to the growth of muscle mass
Consume before bed or between meals
Slow release protein
3 tablespoons (approx. 30g) mixed with 300ml of water or milk. 1-3 shakes throughout the day, depending on physical intensity.
Casein (78%), Whey Protein Concentrate (11%), fat-reduced Cocoa Powder (7.0%)s, Maize Starch, Coconut Powder (Coconut, Maltodextrin, Sodium Caseinate)k(2.0%), Magnesium Carbonate (1688 mg), Yoghurt Powder (1.7%j, 1.5%e,k,m), Sweet Whey Powder (1.5%)v, Flavour, Egg Protein Powder (1.0%), Fruit Powder Strawberry (Maltodextrin, Fruit Powder Strawberry, Acidity Regulator Citric Acid)e (0.8%), Thickener Xanthan, Fruit Powder Elder (Maltodextrin, Elder Concentrate, Sucrose, Invert Sugar Syrup, Acid Citric Acid) (e), Fruit Powder Mango (0.6%)m, Vanilla Bean Powder (0.5%)v, Acid Citric Acid (e,j,k,m), Sweeteners (Sodium Cyclamate, Saccharin, Sucralose), Salt, colouring plant extracts beetroot(e), Colour Beta Carotene(v), Ferric Diphosphate (130 mg), Zinc Sulphate (83 mg), Enzyme Papain (0.07%), Enzyme Bromelain (0.05%), Potassium Iodide (33 mg), Enzyme Actinidin (0.03%), Enzyme Lactase (0.025%), Manganese Sulphate (12.5 mg), Cupric Carbonate (3.8 mg), Sodium Selenite (0.25 mg), Cholecalciferol, Retinyl Acetate, Ascorbic Acid, Nicotinamide, DL-alpha-Tocopheryl Acetate(v,s,e,k,m), D-alpha-Tocopheryl-Acetate(j), D-Pantothenate-Calcium, Pyridoxine Hydrochloride, Riboflavin, Thiamin Mononitrate, Pteroylmonoglutamic Acid, D-Biotin, Cyanocobalamin. Flavour: v = Vanilla, s = Chocolate, k = Cocos, e = Strawberry, j = Joghurt Milk, m = Mango-Lassi. Flavour vanilla: With colour.
Per 100g:
Energy (kJ/kcal): 1575 kJ (376 kcal)
Fat: 2.1 g
of which saturates: 1.4 g
Carbohydrates: 6.2 g
of which sugars: 2.6 g
Protein: 80 g
Salt: 0.55 g
*Please note this nutritional information is taken from the Vanilla flavour. Other flavours may vary slightly
Customer Reviews
Overall Rating : 5.0 / 5 (3 Customer Reviews)
Top Customer Reviews
Where reviews refer to foods or cosmetic products, results may vary from person to person. Customer reviews are independent and do not represent the views of The Hut Group.
I tried this product for the first time a few months ago and I haven't looked back. Mixes well and I like all the flavours. Try it out!
Excellent anytime of the day but great before bed.
Bought this a few times now and a big fan of the taste, somehow tastes a lot better than many other proteins i have tried over the years. Supports my goals as a priority and wouldn't now change back!
Zoom