added to your basket
Sorry, there seems to have been an error. Please try again.
Subtotal: ( items in your basket)
Opt in to loyalty to earn points
Sorry, unfortunately this product is currently out of stock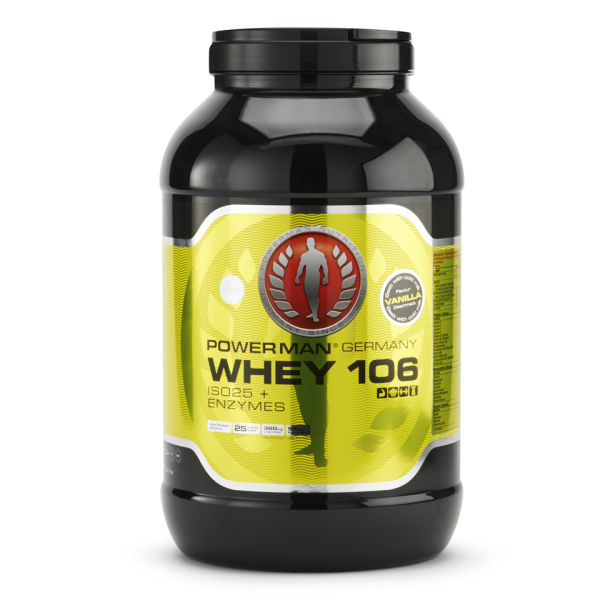 May contain traces of soy, egg and gluten.
PowerMan Whey 106 ISO25 + Enzymes
Opt in to loyalty to earn 19 reward points when purchasing this product*
Powerman Whey 106 is the most technically advanced whey protein to date, with 25% protein isolate optimisation and a built in protein splitter, this formula is Europe's number one product to enhance your performance.
This leading whey protein technology offers a high total protein content that has been engineered to incorporate 25% of whey protein isolate. Whey protein isolate is the purest source of whey protein, presenting the Powerman blend with an incredibly low fat and carbohydrate content.
The optimum protein content of Whey 106 provides a high profile of naturally occurring amino acids which will efficiently contribute to muscle growth and the maintenance of lean muscle mass. This fast digesting protein is a versatile component of any diet that can be consumed at any point in the day to increase daily protein intake, or before and after training for a source of protein.
Adding to the biochemical function, Powerman Whey 106 has been effectively enriched with L-carnitine and three different fruit enzymes. The premium Whey 106 is the perfect progress aid that is now presented in various flavours including natural, ground vanilla, real chocolate and powdered strawberries.
Key Benefits
90% protein content per serving
Low carb, low sugar and low fat
Contributes to the growth and maintenance of muscle mass
Best consumed for breakfast, as a snack or immediately after workout and/or prior to sleep. Depending on body weight 1-3 30g portions in 300ml water. For even better taste and enjoyment, we recommend mixing with low-fat or soy milk.
Whey Protein Concentrate (70%v, 69%e, 64%s), Whey Protein Isolate (25%), fat-reduced Cocoa Powder (6.0%)s, Flavour, L-Carnitine (1.2%), Chocolate Rasps (Cocoa, Sugar, Emulsifier Soy Lecithin) (1.0%)s, Vanilla Bean Powder (0.5%)v, Strawberry Pieces (0.5%)e, Magnesium Carbonate (475 mg), Thickener Xanthan, Acid Citric Acide, Sweeteners (Sodium Cyclamate, Saccharin, Sucralose), Ferric Diphosphate (108 mg), Enzyme Papain (0.07%), Zinc Sulphate (69.4 mg), Enzyme Bromealin (0.05%), Potassium Iodide (31 mg), Enzyme Actinidin (0.03%), Enzyme Lactase (0.025%), Manganese Sulphate (10.4 mg), Cupric Carbonate (3.15 mg), Sodium Selenite (0.205 mg), Color Beta Carotenev, Colouring Plant Extract Red Beet Roote, Cholecalciferol, Retinyl Acetate, Ascorbic Acid, Nicotinamide, DL-alpha-Tocopheryl Acetate, D-Pantothenate-Calcium, Pyridoxine Hydrochloride, Riboflavin, Thiamin Mononitrate, Pteroylmonoglutamic Acid, Biotin, Cyanocobalamin. Flavour: v = Vanilla, e = Strawberry, s = Chocolate
Per 100g:
Energy (kJ/kcal): 1.614 kJ (386 kcal)
Fat: 5.2 g
of which saturates: 3.2 g
Carbohydrates: 6.0 g
of which sugars: 4.8 g
Protein: 76 g
Salt: 0.55 g
*Please note this nutritional information is taken from the Vanilla flavour. Other flavours may vary slightly
Customer Reviews
Overall Rating : 5.0 / 5 (1 Customer Reviews)
Top Customer Reviews
Where reviews refer to foods or cosmetic products, results may vary from person to person. Customer reviews are independent and do not represent the views of The Hut Group.
Being low fat and low carb with fast digesting protein included is perfect for me and my training currently. The taste is great (Strawberry). I am putting on body mass with this product for sure - exactly what i want.
Zoom